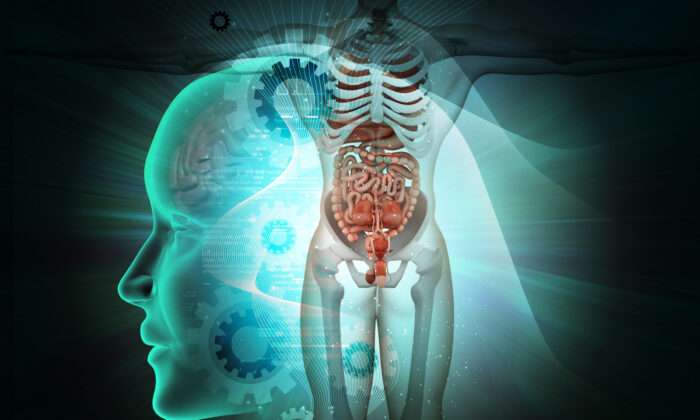 Endocrine System Support
Endocrine System Support
The endocrine system manages your hormones, which are responsible for regulating metabolism, growth, sleepiness, heart rate, blood sugar, the release of adrenaline, and sexual maturity, among many other things.
The endocrine system is made up of glands (the pituitary gland, thyroid, adrenal, ovaries, and testicles) throughout the body that produce, store, and release hormones.  Hormones are chemicals that serve as a form of communication within the body.  The endocrine system triggers the glands to release hormones into the bloodstream, which distributes the hormones throughout the body.  These hormones are critical to our survival; help maintain homeostasis, which includes regulating blood pressure, blood sugar, sex hormones, digestive enzymes, stress response, and more.  Keeping the glands functioning well is key to overall health and quality of life.
What are Endocrine Disrupters?¹
The endocrine system is a network of glands and organs that produce, store, and secrete hormones.  When functioning normally, the endocrine system works with other systems to regulate your body's healthy development and function throughout life.
Endocrine-disrupting chemicals (EDCs) are substances in the environment (air, soil, or water supply), food sources, personal care products, and manufactured products that interfere with the normal function of your body's endocrine system.  Since EDCs come from many different sources, people are exposed in several ways, including the air we breathe, the food we eat, and the water we drink. EDCs also can enter the body through the skin.
EDCs are chemicals or mixtures of chemicals that interfere with the way the body's hormones work. Some EDCs act like "hormone mimics" and trick our body into thinking that they are hormones, while other EDCs block natural hormones from doing their job. Other EDCs can increase or decrease the levels of hormones in our blood by affecting how they are made, broken down, or stored in our body. Finally, other EDCs can change how sensitive our bodies are to different hormones.
EDCs can disrupt many different hormones, which is why they have been linked to numerous adverse human health outcomes including alterations in sperm quality and fertility, abnormalities in sex organs, endometriosis, early puberty, altered nervous system function, immune function, certain cancers, respiratory problems, metabolic issues, diabetes, obesity, cardiovascular problems, growth, neurological and learning disabilities, and more.
Endocrine Responses
There are many different kinds of hormone molecules, and each kind sends a different message that triggers different responses.  The endocrine system regulates the release of
adrenaline, cortisol, insulin, progesterone, melatonin, estrogen, testosterone and many other hormones that send messages throughout the body.
The pituitary gland is known as the master gland.  It controls all other glands in the endocrine system.  A special part of the brain called the hypothalamus controls the pituitary gland, so the endocrine system is actually under the control of the nervous system.  Hormones controlled by the endocrine system control the function of the many organs and body systems, including the skin, kidney, stomach, liver, pancreas, reproductive system, and heart.
A simple way to avoid harsh chemicals is using sunscreen containing natural minerals to shield us from harmful UV rays.  Formulated with non-nano zinc oxide, this spray delivers lightweight SPF 30 UVA/UVB broad-spectrum protection. With the power of plant-based ingredients like aloe vera and vitamin E—coupled with a blend of CPTG® essential oils,
including Carrot Seed, Frankincense, and Helichrysum—this sunscreen spray provides nourishment to the skin from head to toe.
• Delivers SPF 30 – 40 broad-spectrum (UVA/UVB) protection in a lightweight spray.
• Nourishes and moisturizes with minimal visible residue
• Contains non-nano zinc oxide, avocado oil, raspberry seed oil, aloe vera, turmeric extract, jojoba esters, and vitamin E
• Contains NO parabens, phthalates, phenoxyethanol, oxybenzone, or synthetic fragrances
• Provides water-resistant protection for up to 80 minutes
This formula is oxybenzone-, paraben-, and phthalate-free, as well as vegan-friendly, reef-safe, and cruelty-free.  It's packaged in an aluminum, non-aerosol spray bottle that delivers a continuous, 360-degree application for easy, all-over coverage.
Pre- and Peri- and Post-Menopausal Women
Almost every function in a woman's body is controlled by hormones.  Estrogen and progesterone are particularly important hormones for women and will influence a woman's good health and emotional well-being throughout her lifetime.
High estrogen production in young women can result in significant issues related to menstruation, while the production of too little estrogen as a woman ages can impact many aspects of a woman's reproductive health and can be a contributing factor to the health challenges that some women experience during and after menopause. Balancing healthy estrogen levels will help minimize monthly hormone swings and the hormone fluctuations associated with menopause.
Pre- and peri-menopausal women, take 1 to 2 capsules daily with food or as directed by a healthcare professional.
Post-menopausal women, take 2 capsules daily with food; ideally formulated to be taken with doTERRA Women Bone Nutrient Essential Complex, doTERRA ClaryCalm® monthly essential oil blend.
Essential Oils for Endocrine System Support
Essential oils can be used to support the endocrine system and promote balance and homeostasis.  Several essential oils may be useful in supporting the healthy functioning of the endocrine system, including Clary Sage, Fennel, Lemongrass, Melissa, Rose, and Rosemary.  Diffusing these oils, applying them topically, or taking them internally can be helpful.
¹The Endocrine Society, www.endocrine.org, Endocrine-Disrupting Chemicals (EDC's), January 24, 2022