Frankincense Essential Oil
Frankincense Essential Oil
Renowned as one of the most prized and precious essential oils, Frankincense oil has extraordinary health benefits.  In addition to its notoriety in the New Testament, the Babylonians and Assyrians would burn Frankincense in religious ceremonies and the ancient Egyptians used Frankincense resin for everything from perfume to salves for soothing skin.  In old French "Franc Encens" means Pure Incense or Free Lighting.
This centuries-old knowledge contributes to the modern uses of Frankincense oil today.  Its soothing and beautifying properties are used to rejuvenate skin and help reduce the appearance of imperfections when applied topically.  As the king of oils, Frankincense is known to support healthy cellular, immune, nervous, and digestive function when used internally.
Combine Frankincense essential oil with essential oils like bergamot or lavender and inhale or diffuse to create an experience of peace and satisfaction.
Uses
Rub Frankincense on joints to reduce inflammation.
Apply topically to help reduce the appearance of skin imperfections.
Massage Frankincense oil on the bottoms of feet for better sleep and recovery from your daily life.
Ingest 1 – 2  drops in a doTERRA Veggie Capsule to support healthy cellular function.
Primary Benefits
Ingest to support healthy cellular function, helps prevent cancer cells from spreading, and reduce brain edema.
Provides a soothing, aromatic experience
Helps reduce the appearance of skin imperfections when applied topically
Supports healthy immune and nervous system function when taken internally
Anti-inflammatory to reduce joint stiffness and pain, arthritis discomfort, and cartilage loss.  Improves mobility and a healthier inflammatory response.  Reduces inflammation and mucus production in lungs.
Reduces symptoms of IBS syndrome, ulcerative colitis, abdominal pain and bloating.
Improves oral hygiene, prevents gum disease, strong anti-bacterial properties, and reduces microbes in mouth.
Aromatic Description:  Warm, spicy, clean, woodsy
Collection Method:  Hydrodistillation
Plant Part:  Resin from Boswellia carterii, sacra, papyrifera, and frereana
For more information click Frankincense Essential Oil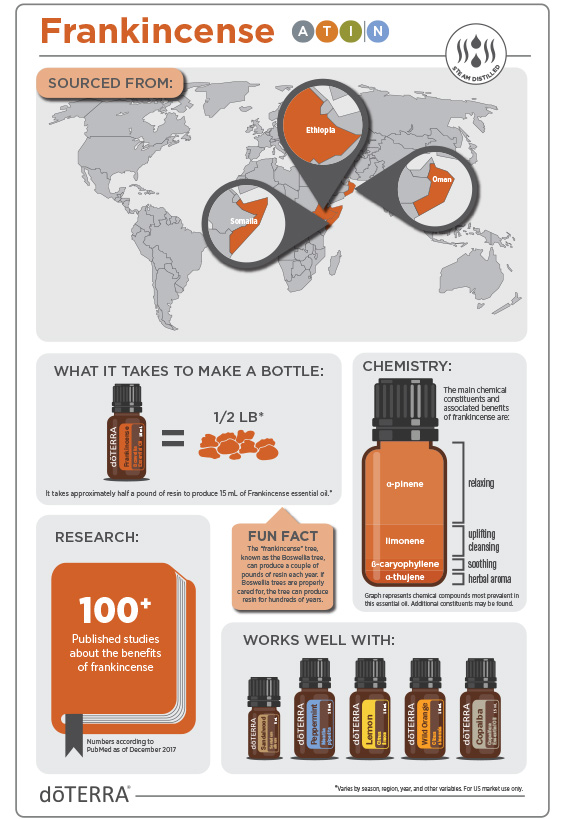 Frankincense Essential Oil 15 ml  $90.00
Frankincense Touch Roller Ball 10 ml $60.50